ARTPARK Amphitheatre Information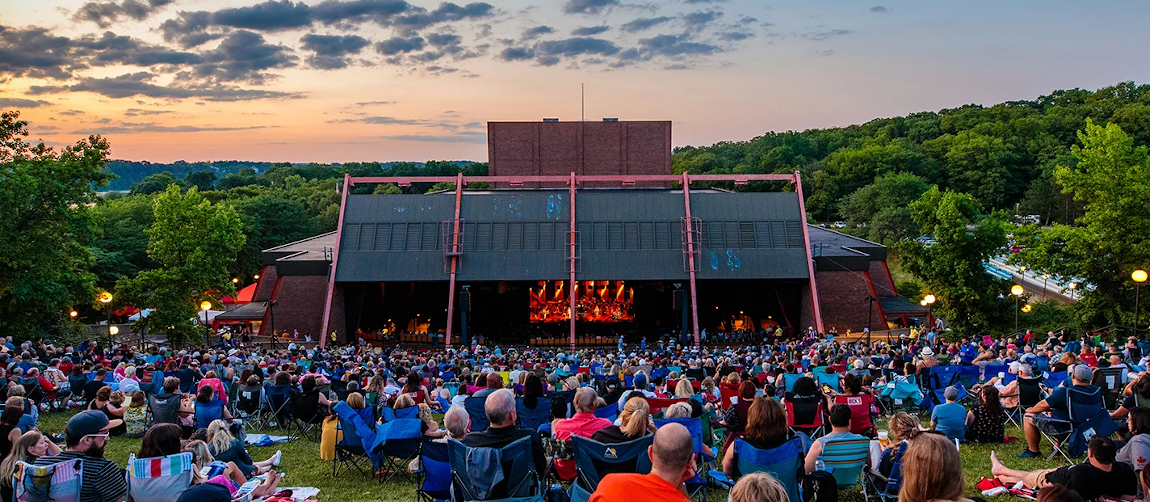 The ARTPARK Amphitheater is part of the Earl W. Brydges Artpark State Park, a 108-acre state park located in the Village of Lewiston in Niagara County, New York. The park, named after former senator Earl Brydges, is generally known simply as Artpark and is known for having an incredible look over the Niagara Gorge.
The park is a venue for all kinds of entertainment but is most popularly used as a summer music venue. It offers picnic tables and pavilions, fishing spots, hiking trails, and a gorgeous view of some of the most beautiful natural surroundings in the state. The park is also on the property of the Lewiston Mound, an archaeological site that has been placed on the National Register of Historic Places.
The park was originally founded in 1974 and was built upon the former site of an industrial waste dump and became an important part of the land art movement. Alan Sonfist's famous Pool of Virgin Earth, a 25-foot clay basin for catching aerial seeds, as well as several projects by women artists in the 1970s, have called Artpark their home. The park was also used as a testing lab for outdoor sculpture and had over 200 artists and collectives creating art and installations between 1974 and 1984.
This focus on creativity and inspiration also became an important part of its entertainment venues, as proven by the later additions of the Mainstage and Amphitheater venues. While the mainstage venue consists of an enclosed performance stage and accommodations for 2,400 viewers, the amphitheater set up is massive featuring outdoor stage and seating that accommodates 10,000 viewers. These venues serve ARTPARK's goals of outdoor creativity and artistry by bringing in some of the best bands and talent in the country.
For more information on the ARTPARK Amphitheatre see the pages below:
ARTPARK Amphitheatre Parking:
For parking information and satellite navigation tips for the ARTPARK Amphitheatre.
Ticket Policies:
For ticket guarantees, ticket verification and refund policies.
ARTPARK Amphitheatre Seating Chart:
For ARTPARK Amphitheatre seating map and seating information.